Baron-Renouard, "Coucher de Soleiu au Mont St. Michel" O/C 31 x 31 Inches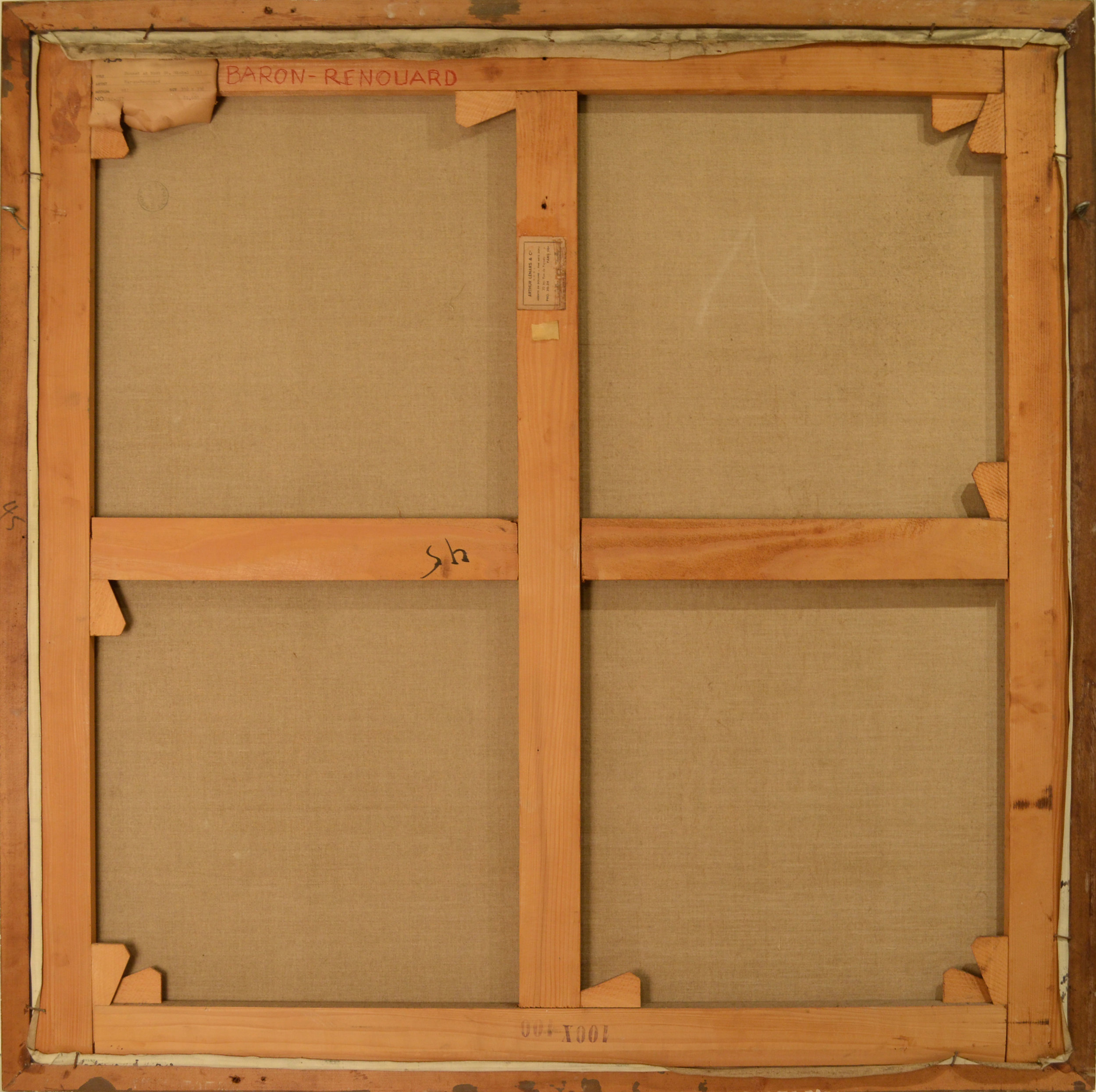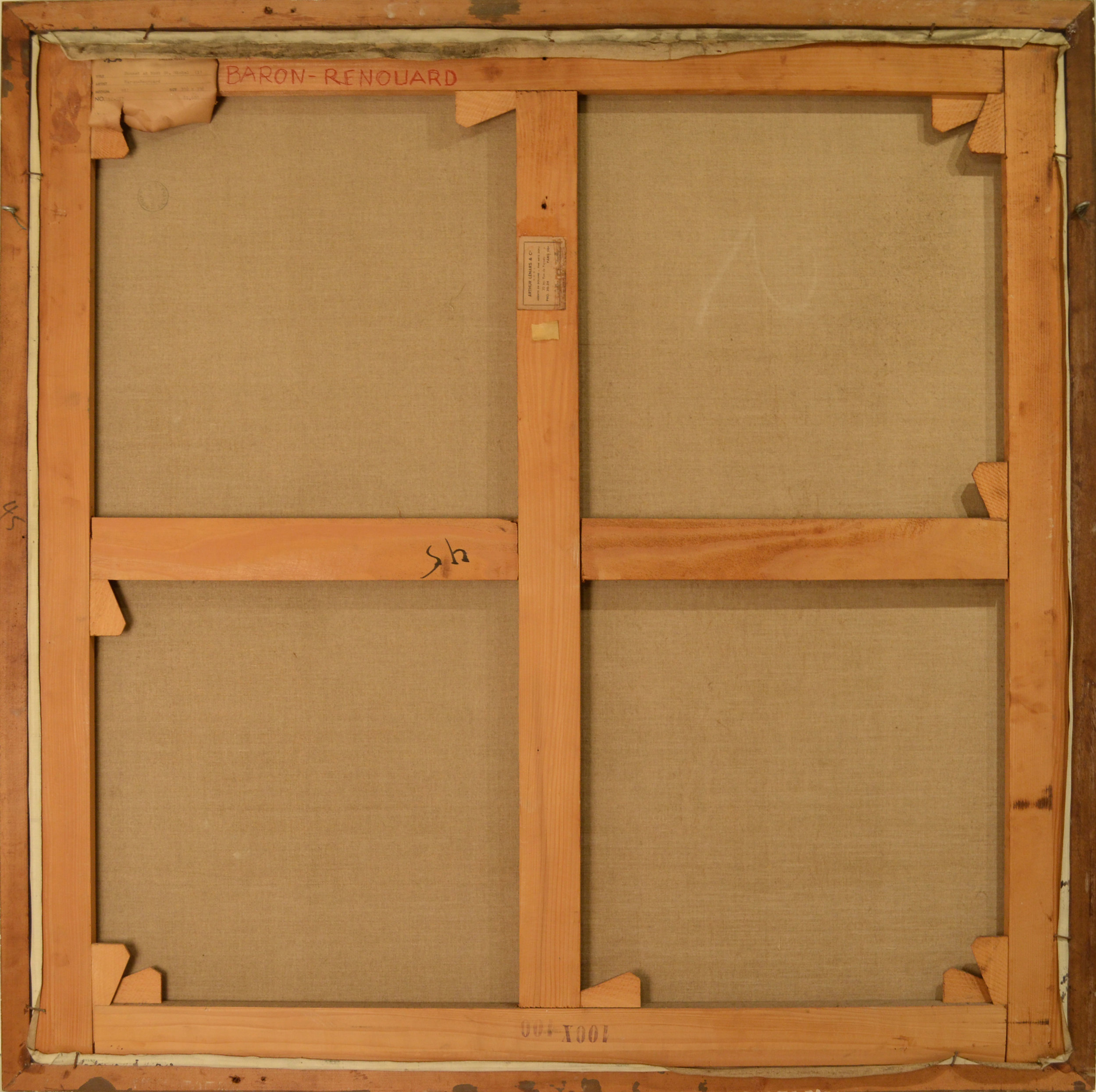 Baron-Renouard, "Coucher de Soleiu au Mont St. Michel" O/C 31 x 31 Inches
In this painting by Baron-Renouard, known for his lyrical abstraction of landscapes, we see the sun setting over the island of Mont St. Michel. Working in a Cubist mode of abstraction, the artist flattened the forms in the landscape into planes of color. We can just get a sense of the island amid the geometric shapes painted primarily in white with accents of pink, blue, and the orange sun
Born in Vitré in the region of Ille-et-Vilaine (France) in 1918, Baron-Renouard followed in the footsteps of his grandfather Charles Paul Renouard. He obtained his diploma from the National Superior School of Decorative Arts. Among his professors were former pupils of his grandfather, such as Legueult, Brianchon and Desnoyer.
Upon his return from the world war two he exhibited for the first time at the Under 30s exhibition from 1946-1947. A figurative artist at this time, he collaborated with the review ACE (Art, Culture, Economy), Revue Occident with Cassandre and Revue de la Danse, of which he was one of the founders. At the age of thirty, the young artist won the City of Venice Prize in 1948 and was invited by the Foundation of the Château de Lourmarin. The writings of the painter tended towards an increasingly liberal expression, impregnated with aerial perceptions from his time as a pilot during the war. The monographic texts written on his work evoke this time. His study trips (Italy, Spain from 1949-1959, Japan from 1960-1985), the memories of his birthplace, French Brittany, and his frequent travels fed his imagination.

Based on a perfect mastery of the profession, the work of Baron-Renouard has a strong expression, both poetic and musical, an invitation on an imaginary journey through time and space. In 1961 he was invited to the Charpentier Gallery (School of Paris) and in 1967, to Montreal, to a prestigious international exhibition at the French Pavilion. At the Autumn Exhibition, he was President of the painting section for several years. He was also honorary member of the Nika Exhibition in Tokyo. From the sixties, Baron-Renouard continued his journey in the field of monumental art.

Stained glass windows, mosaics and tapestries entered his creative repertoire and he completed many bespoke pieces. From 1978 he regularly exhibited his tapestries with ARELIS in San Francisco, Berlin, Chicago, Brussels, Washington and in France, notably at the Great Palace and UNESCO House.

During his missions for the French Committee of Plastic Arts at UNESCO (New York-1963, Tokyo-1966, Varna-1973, Baghdad-1974, Moscow-1975-1976, Sofia-1977, Stuttgart-1979, Helsinki-1983, Budapest-1986, Madrid-1989, Mexico-1995) Baron-Renouard met many of his contemporaries across the world with whom he worked for the material and moral defence of artists, something which allowed him to organize many exchanges and to build friendships. Baron-Renouard frequently visited Veira Da Silva, Sonia Delaunay, Eddy Legrand, Roger Chastel, Manessier, Poiiakoff, Gérard Schneider, Singier, Jacques Villon and also Henri Bosco, Albert Camus, Ionesco. He was asked by André Malraux to organize the sixtieth anniversary of Fauvism, in Tokyo in 1965. *
Sources*
http://www.juliaboston.com/tapestry2087.html
Photo *: https://www.artprice.com/artist/1490/francois-baron-renouard/biography
http://www.baronrenouard.com