Gaston Latouche "La Peche" 1902 (French, 1854-1913) 44 x 40 inches, oil on canvas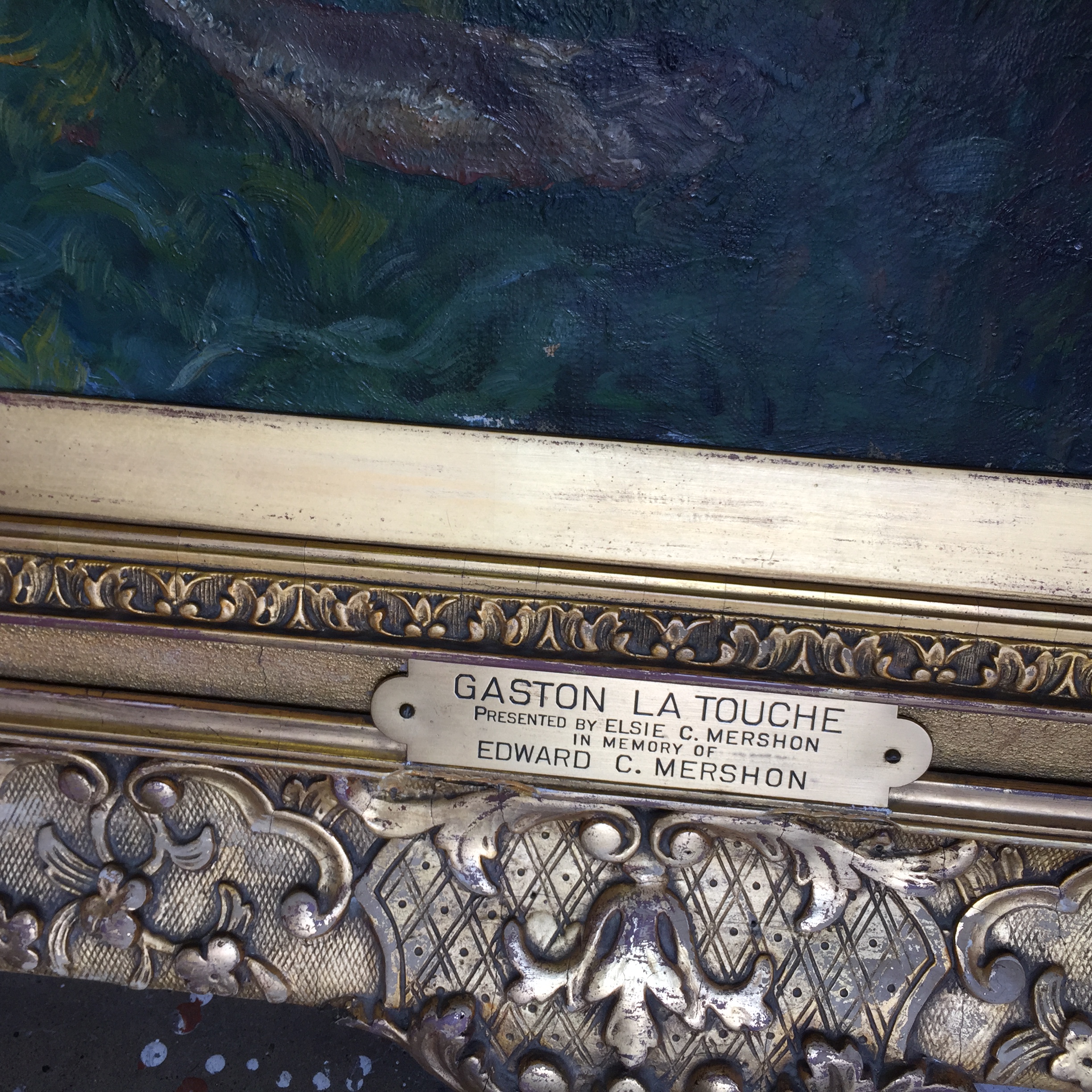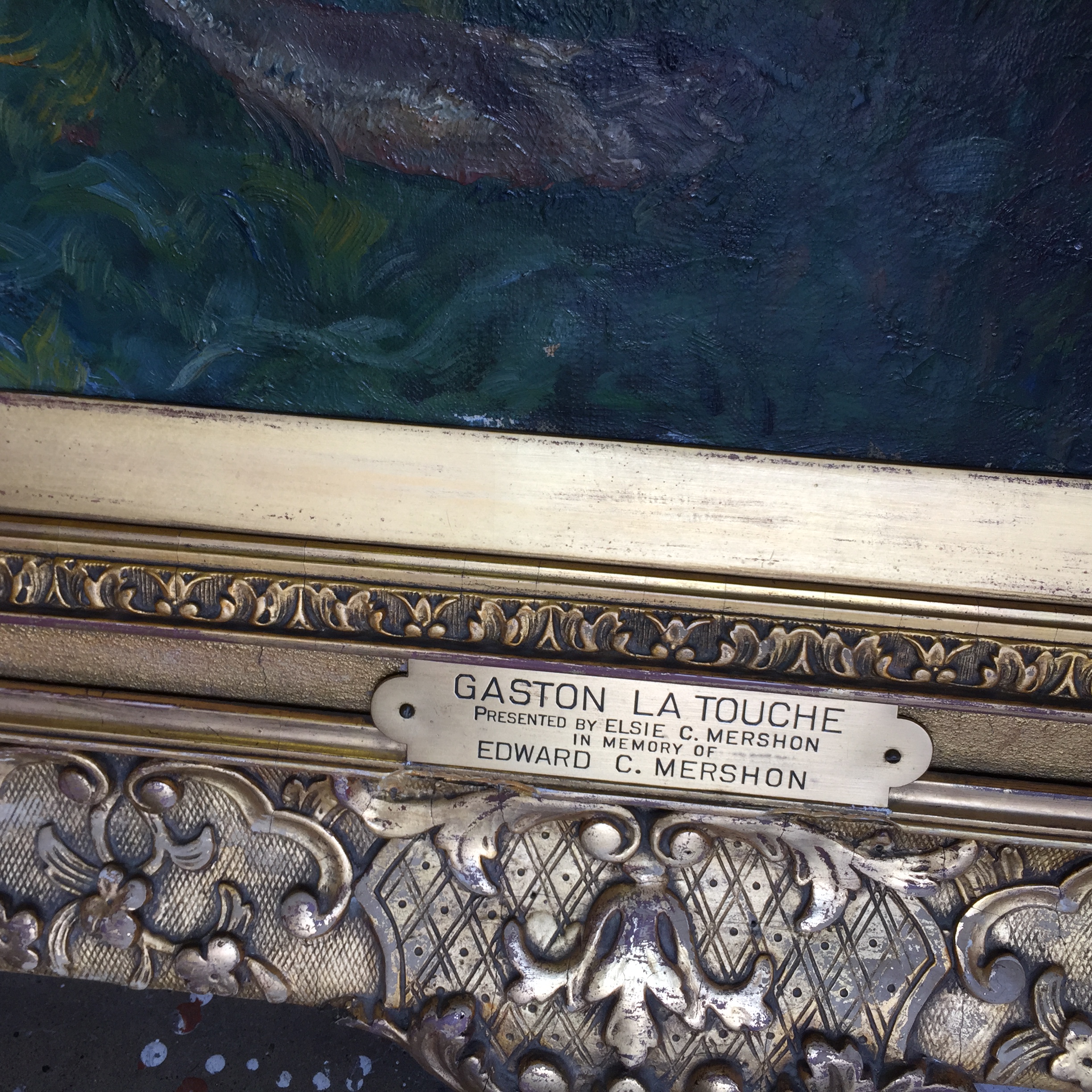 sale
Gaston Latouche "La Peche" 1902 (French, 1854-1913) 44 x 40 inches, oil on canvas
57 x 53 inches framed
It was purchased by Mr Edward C Mershon from Knoedler in October 1919 and gifted to the Toledo Museum of Art by Miss Elsie C Mershon.
It was deaccessioned by the museum and then found its way to a Dallas home.
This painting is listed in the database on Latouche and will be included in the upcoming Catalog Raisonne on the artist by Roy Brindley & Selina Baring Maclennan.
It is also included in the 1914 book on La Touche by Henri Frantz.
(Photos of Gaston Latouche courtesy of the Gaston Latouche Catalog Raisonne website.)
Gaston La Touche, a French painter and printmaker, was born in Saint-Cloud in 1854. A self-taught artist, he was from childhood determined to be a painter and was supported in this ambition by his well-to-do parents. His first paintings (1880s) were domestic scenes in the 17th century Dutch style. They were vigorous, harsh and somber and met with no success; he burnt most of them in 1891.

In the late 1880s, the influence of his friend Felix Bracquemond prompted him to discard his early style in favor of the colors favored by the Impressionists; he also shifted his brushwork to small, petal-like strokes of color. In 1890, he exhibited Phlox and Peonies—both colorful scenes of women, children and flowers—at the Societe Nationale des Beaux-Arts, which brought him immediate success. These works represent the beginning of a radical shift in La Touche's subject matter, palette and technique.

During the six years until 1896, he gradually, yet steadily evolved from realism to the idealism that would become the hallmark of his oeuvre: the creation of a harmonious, luminous and charming world of parks and gardens, nymphs and fountains, fireworks, and fetes-champetres.

La Touche participated in shows mounted by the Societe des Artistes Francais in the 1880s and 1890s, receiving a third place medal in 1884 and second place medal in 1888. In 1889 La Touche won a bronze medal at the l'Exposition Universelle and was later awarded a gold medal at the 1900 l'Exposition Universelle. In 1900, La Touche also received the Legion d'honneur and was made an officer of the Legion in 1909.

As further proof of his success, in 1908 an impressive retrospective featured over 300 of his works at the Galerie Georges Petit in Paris. In 1909 his paintings were exhibited in another large show at Boussod and Valadon in The Hague. At this time, La Touche was awarded several official commissions for large-scale decorative schemes. These included four views of fetes at Versailles for the Palais d'Elysee, four decorative panels showing landscapes with figures for the Ministere de l'Agriculture, four pictures representing the arts for the Ministere de la Justice and decorations for the dining room of the liner La France. He also painted murals for the house of the dramatist Edmond Rostand at Cambo, Pyrenees-Atlantiques. These large canvases and murals, reminiscent of the work of such 18th century artists as Hubert Robert and Jean Honore Fragonard, are characterized by glowing colors and broad brushstrokes. La Touche's most well known works remain his light-filled garden and fetes gallants paintings, all completed with his trademark delicate brushwork and beautifully vivid palette.

Museum Collections Include:
The Art Institute of Chicago; The Palace of Fine Arts, San Francisco; The Hermitage Museum, St Petersburg; Dayton Art Institute, Ohio; Museum of Modern Art, Paris; Art Gallery of New South Wales, Australia; Alencon, France; le Mans, France