Carlos Reymond, dated 1906 (French 1884 - 1970) "Harbor" O/C 21x25 Inches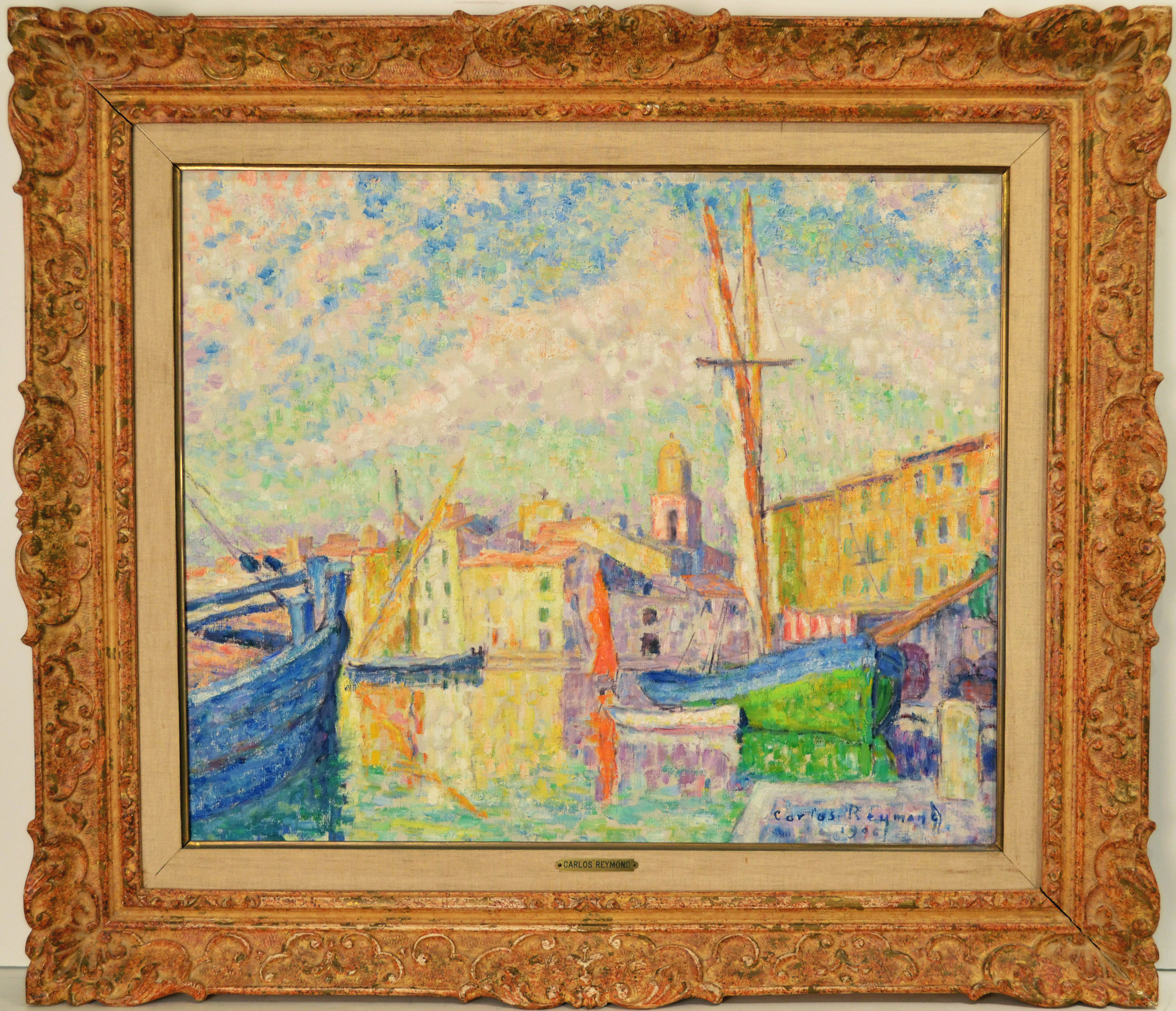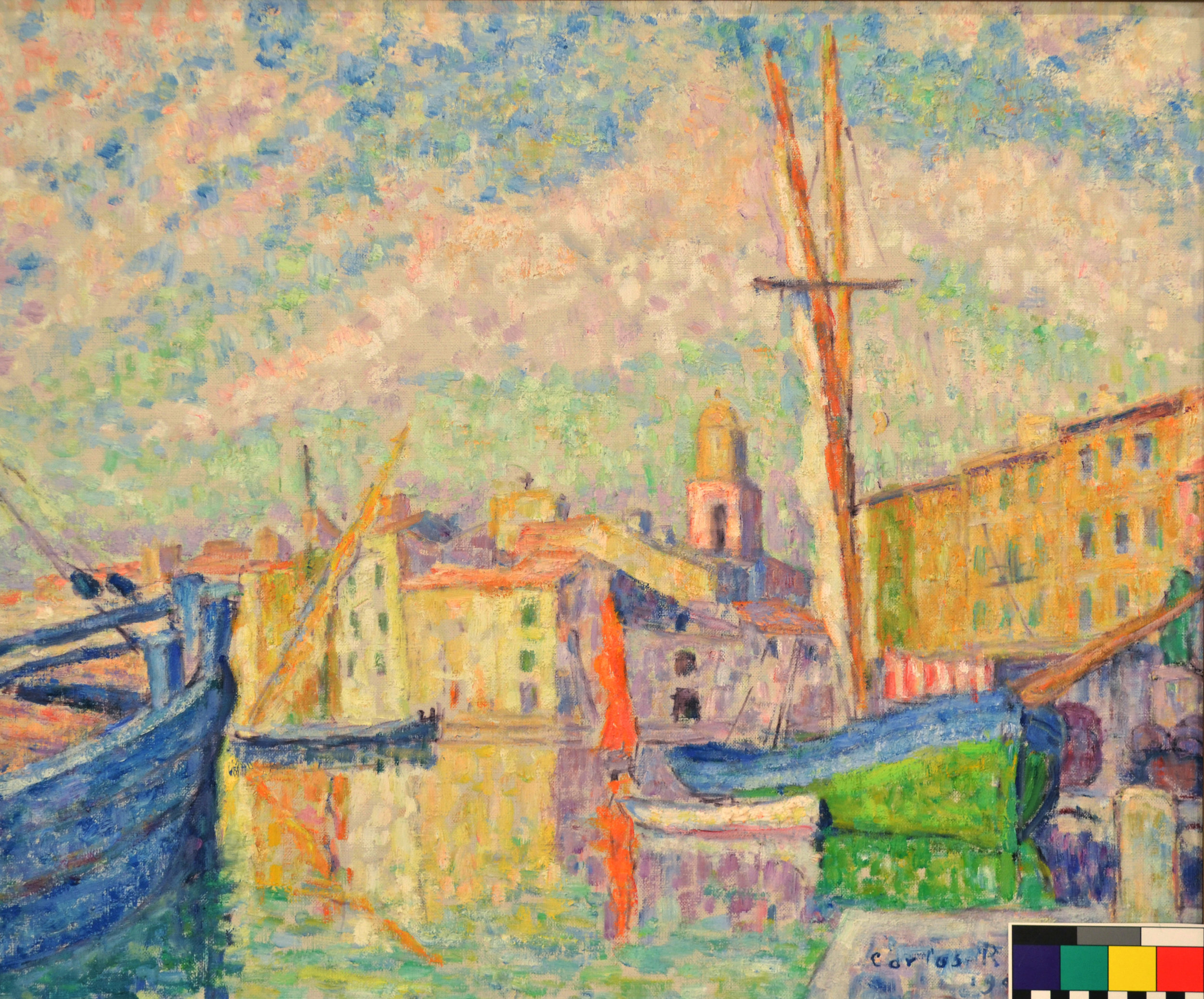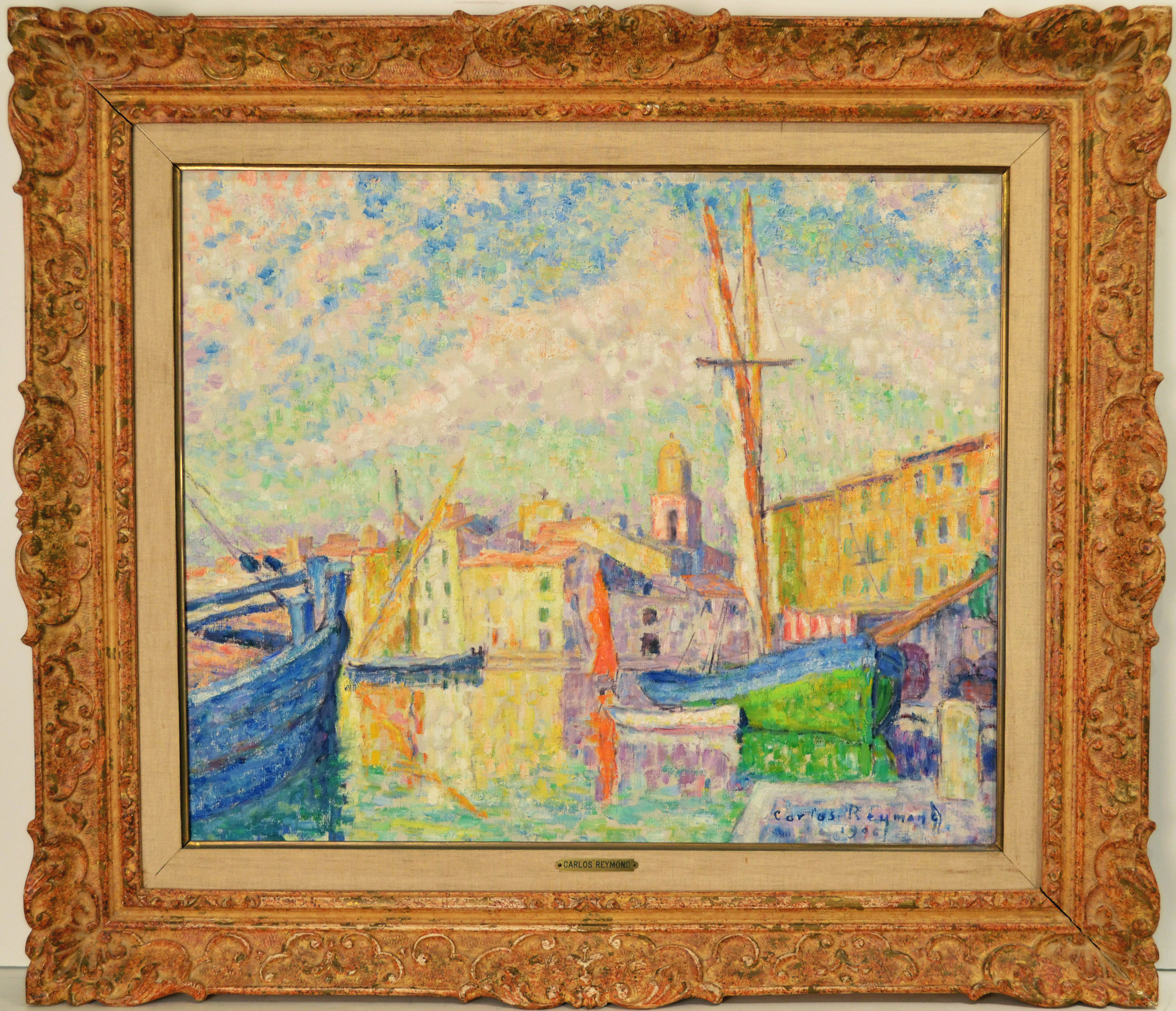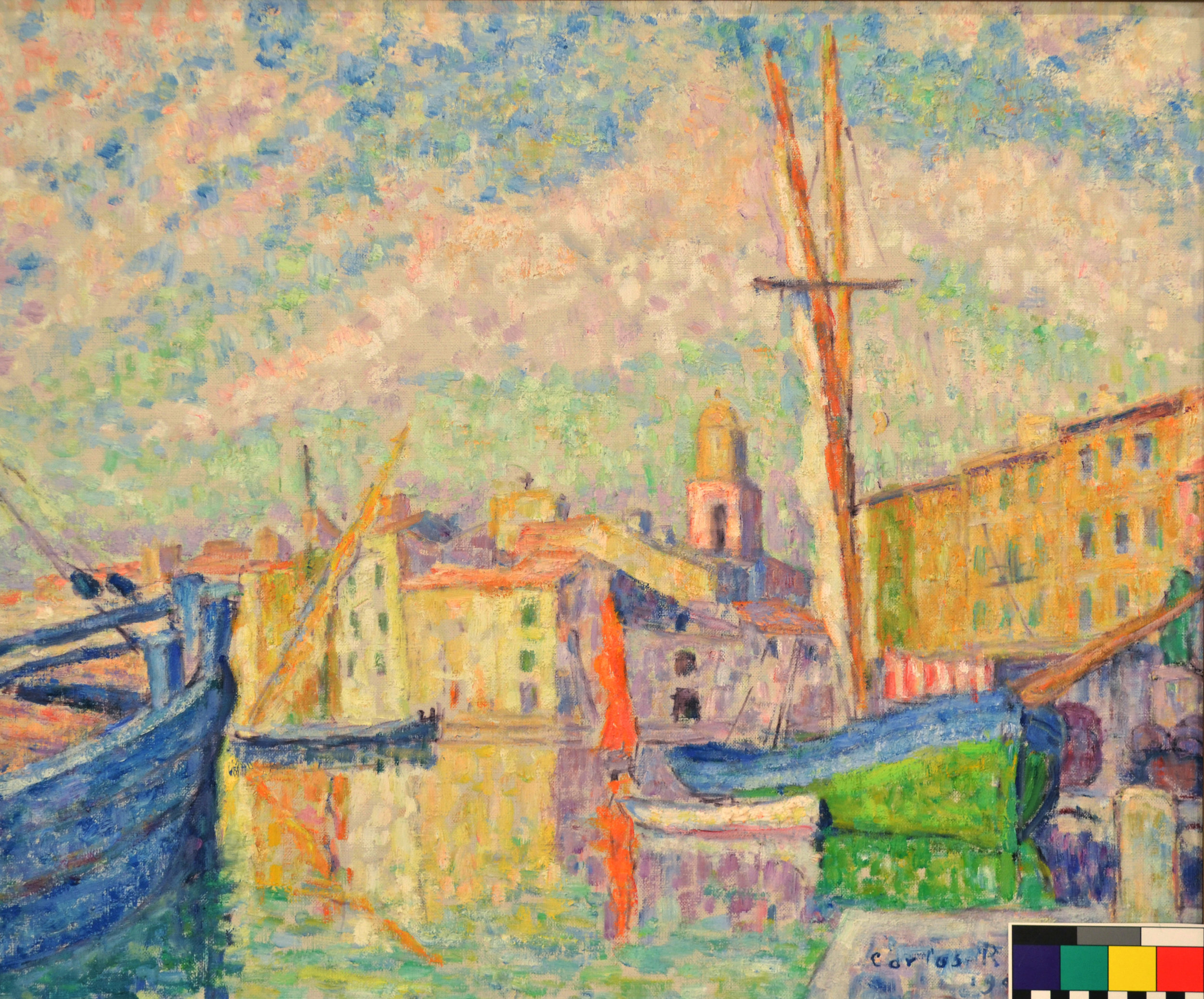 Carlos Reymond, dated 1906 (French 1884 - 1970) "Harbor" O/C 21x25 Inches
Framed Size: 30 x 35 Inches
Carlos Reymond was encouraged to become an artist at the young age of sixteen by none other than Claude Monet. This painting of a harbor, probably done en plein air, shows just how influenced the artist was by the elder Impressionist. The subject of this painting is the light in the harbor as it reflects in the colorful sky and the surface of the water rather than the boats and buildings in the setting. The artist worked quickly in shades of green, purple, yellow, and blue to give a viewer the impression of a fleeting moment in time.
Carlos-Reymond was born in Paris. Receiving the advice and encouragement of Claude Monet at the age of sixteen, "the picturesque Parisian streets gave him at the beginning subjects of animated compositions" 1 . Carlos-Reymond settles however very young in Saint-Tropez where his parents are built a "charming home" in 1903 2. "It is in our port of Saint-Tropez, testifies his friend André Dunoyer de Segonzac who meets there for the first time during the summer of 1908, that he learned to love the sea, the beauty of ports and ships . It was the time of the tartanes : the young Carlos drew them fervently and painted them in watercolor " 3 .
If, in the tropezian entourage of Paul Signac of which he becomes the pupil, Carlos-Reymond frequents Louis Valtat , Henri Lebasque, Charles Camoin and Henri Manguin , it is especially with Signac and Henri Person "that he binds himself, forming an inseparable trio where everyone follows his path, stimulated by the neighbor's work but never imitating it " 4 .
In 1915, Carlos-Reymond was mobilized with his friend André Dunoyer de Segonzac in the Escadrille des Cigognes at Breuil-le-Sec . In 1919, he married Marthe Lebasque for a life that would then be divided between Paris and the South, with resorts leading to Normandy , Brittany , the Netherlands , Italy , Spain , North Africa ."A life also devoted to friendship with artists such as Pierre Bonnard , Albert Marquet , Henri Matisse , Henri-Edmond Cross , Maximilien Luce , Maurice de Vlaminck , Maurice Denis, George Rouault , Andre Lhote , Jacques Villon , Kees Van Dongen , André Dignimont or Marie Laurencin , poets such as Guillaume Apollinaire and Jean Cocteau , critics such as Félix Fénéon , Jean Cassou or Claude Roger-Marx , musicians such as Albert Roussel , Jacques Ibert , Florent Schmitt or Nadia Boulanger who are the relatives of their apartment in Paris or their villa in Roquefort-les-Pins , La Marthoune " 5 .
These relationships in the world of music mandate precisely Carlos-Reymond, then a member of the committee of the Society of Independent Artists 6 , to ensure the successful revival of the Salon des Independants which reopens in 1920 after the interruption because of the First World War : in a musical expansion initiated by our artist and which will be renewed in 1921, Alexander Brailowsky plays Igor Stravinsky , Florent Schmitt directs his own compositions, Jean Cocteau speaks of Erik Satie, the presence of Austrian Arnold Schönberg, however, raising a national controversy in the aftermath of the great conflict 7 .
It was in 1941 that Carlos-Reymond and his wife moved to Cimiez where they were Henri Matisse's neighbors. "From the top of the hill of Cimiez, on his terrace, he could contemplate the bay of Nice ... Carlos-Reymond lived then in the middle of ancient furniture in an apartment, true museum, where were hung the most beautiful paintings of his father-in-law ... His own paintings hung by their side, from the earliest pointillist works to the most recent, testified to the quality and singularity of an art that his modesty and reserve did not really reveal until after his death " 5
Collective Exhibitions
Salon des independants , Paris, from 1905 to 1921 10 , member in 1916 6 .
Fall Salon , 1912, 1928 (Jubilee Salon) 11 .
Salon de la Libre Esthétique , Interpretations of the South: Albert André , Charles Camoin , Carlos-Reymond, Othon Friesz , Fernand Lantoine , Henri Manguin , Albert Marquet ... , 1913.
Annual group exhibition of the Druet Gallery, with Henri Lebasque, Pierre Laprade , Maurice Denis , Louis Valtat, around 1924 12 .
International Exhibition of Modern Decorative and Industrial Arts , Paris, April-October 1925.
Exhibition of French art, Cairo , 1928.
Marthe Lebasque and Carlos-Reymond exhibit together , Galerie André Maurice, Paris, November 1960.
Closed Houses , Gallery Au bonheur du jour, Paris, January 2010 13 .
Sources *
https://translate.google.com/translate?hl=en&sl=fr&u=https://fr.wikipedia.org/wiki/Carlos-Reymond&prev=search